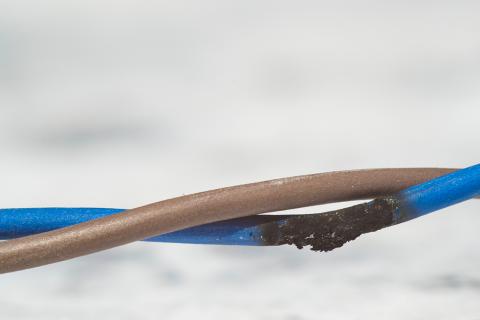 Electrical faults can take many forms, from the minor irritant to the serious and life threatening. They can appear gradually over time as a result of wear and tear and deterioration or suddenly as a result of changes made accidentally or deliberately through lack of knowledge or competence.
Most minor faults won't be dangerous but could prevent circuits from working as they should - so you know there is a fault - like a light, socket or appliance. Of more concern are those that could be dangerous if they are left to get worse.
Even when you think it's something that you could probably fix it yourself, you really should contact an electrician to complete the electrical fault finding. DIY electrics can be functional and still be very dangerous and incorrect repairs could cause fires or even death.
Symptoms of a likely electrical fault include -
Hot plugs and adaptors
Scorch marks around sockets
Sparks
Loose sockets
Dim or flickering lights
Bulbs that blow often
Popping or crackling sounds
Burning smells
Exposed wires or obvious damage
Missing fuses in the fuse box
Repeated tripping of a circuit
A tingling or buzzing feeling in your hand when touching the wiring or plugs – or even an actual shock!
Other giveaways are botched additions and repairs like loose sockets, sockets in odd places or wiring over the surface of a wall. When you plug in electrical equipment in look for frayed flex / wires or blue sparks.
If you think that you have an electrical fault, contact your local fault finding electrician. Check that the electrician is qualified and Part P registered to confirm that your electrician has the qualifications to undertake the fault finding, correctly diagnose it and any related issues and leave your house safe and sound.
Here at Tamworth Electricians we offer a quick response to electrical fault finding enquiries and work to resolve the electrical problem safely causing as little disruption as possible. We are NAPIT and Part P registered and fully qualified to deal with your electrical fault-finding needs.
We provide an emergency call out service. If you need to contact us in an emergency, we will ask additional questions and offer advice over the phone to make sure you are as safe as possible. We may also ask (where safe to do so) that you to do some additional checks before our arrival making our visit cheaper for you.
On our arrival we will fully assess the situation. We will carry out various checks and tests and be able to advise you of our findings, what the fault is and what is needed to remedy this. From repair, rewiring or replacement we are able to provide you a quote and carry out the work for you – we can even re-test after for your peace of mind for your safety.
Electrical faults don't have to be the end of the world. If you notice a fault in your home, call your fault finding electrician in Tamworth, Lichfield, Sutton Coldfield and surrounding areas to diagnose and repair the problem before it escalates to something more serious.